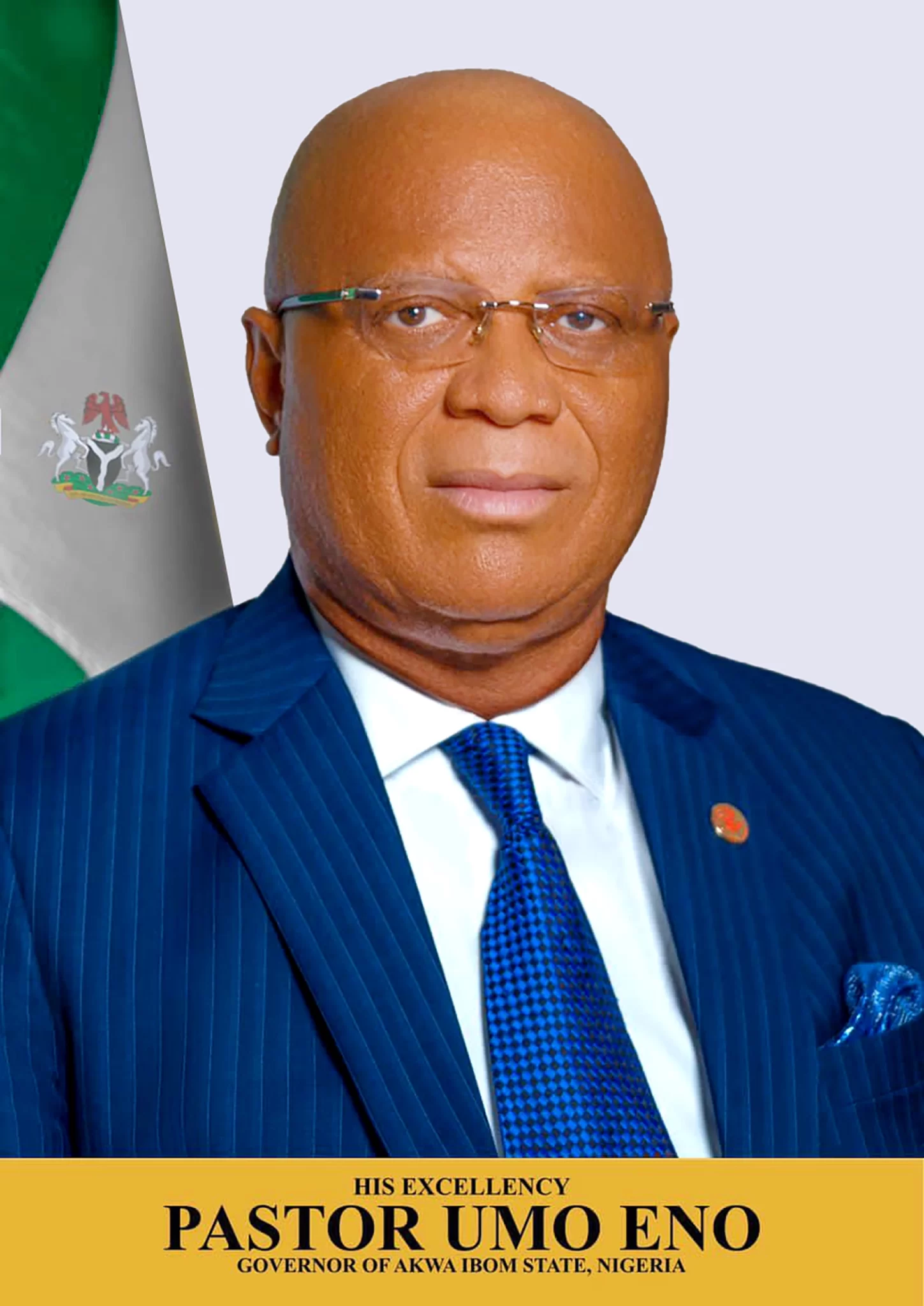 Who is Umo Eno?
Pastor Umo Eno is the Governor of Akwa Ibom State.
It was Henry Wadsworth Longfellow (an American poet and educator) who said, "the heights by great men reached and kept were not attained by sudden flight, but they, while their companions slept, were toiling upward in the night." Sydney Smith (an English clergyman, critic and philosopher) also quipped, "Great men hallow a whole people, and lift up all who live in their time." In the same vein, Robert Green Ingersoll (an American lawyer, writer and orator) reeled out, "A great man does not seek applause or place; he seeks for truth; he seeks the road to happiness, and what he ascertains, he gives to others." These and more could pass as accurate literary descriptions of the life, times and person of Umo Bassey Eno.
A seasoned businessman, clergy, and management expert, he has working experience spanning the private sector and the public sector. Pastor Umo Eno is a worthy example of the grace of God on mankind. From a humble beginning in a value-based family and driven by firmness of purpose and desire for a better society, he has lived a life of service to humanity. Before becoming a household name in Akwa Ibom State, Umo Eno passed through the banking sector to the business terrain where he worked in a couple of companies and exuded diligence, tact, dexterity and commendable results in every assigned responsibility.
He is prominently identified with Royalty Hotels, a leading hospitality and allied services company which he founded in 1997. Since then, this admired son of Akwa Ibom State has established himself as a key figure in the hospitality and tourism industry; and has become one of the most recognizable players in industrial catering in the oil and gas sector. He is a good social mixer with unparalleled value for human relationship. His ardent belief in hard work, integrity and excellence has shaped his perception, with 2 | P a g e subscription to the philosophy of "pray as if everything depends on God, and work as if everything depends on you."
Background
Umo Eno, a native of Ikot Ekpene Udo, in Nsit Ubium Local Government Area of Akwa Ibom State, was born in Enugu on April 24, 1964. His father, Bassey Umo Eno was a Chief Superintendent of Police (CSP) while his mother Deaconess Eka Bassey Umo Eno was into merchandising.
He attended the Local Government Authority Primary School, Lagos; and had his Secondary education at St. Francis Secondary School, Ikot Ataku, Eket, before returning to Victory High School, Lagos where he completed same and obtained the West African Senior School Certificate. A man with a voracious appetite for knowledge, Umo Eno graduated from the University of Uyo, with a Bachelor of Science degree in Political Science and Public Administration and a Master of Science degree in Public Administration. He is currently working on his thesis for an award of a PhD in Political Administration from the same university.
To broaden his horizon about management and business, he has attended quite a number of courses, conferences and seminars including the Conference of International Association of Hospitality Practitioners in Chicago, USA; Continuing Professional Education for Hospitality Practitioners by Nigerian Hotel and Catering Institute; Capacity Development Programme for Hospitality Practitioners by Nigerian Hotel and Catering Institute; Water and Mineral Bottling Business Course, in India; Executive Team Leadership Training at the Lagos Business School; Making Catering Contract Work Course, in London, United Kingdom; Materials Purchasing/Procurement and Stores Inventory Management in Eket, as well as Basic Water Survival Training, also in Eket.
He has also attended courses in Development of Tourism in Small Islands and Sub-Saharan Africa, in Seychelles; Effective Negotiation Strategy, United Kingdom; Strategic Marketing Course, United Kingdom; Corporate Treasury Course in Lagos; Interpretation of the Banks and Other Financial Institutions Decree (BOFID) Training, Lagos; Interpretational Conference on Capital Market Development (Seminar); Bank Credit Analysis Course, Union Bank Training School, Surulere, Lagos; Cashiers Course, Union Bank Training School, Surulere, Lagos.
Special Skills
His endeavours and achievements so far speak eloquently for him. He is an entrepreneur per excellence and well-endowed in: Visionary leadership; Budgeting and driving financial efficiency; Performance management; Problem-solving; Relationship Management; Strategy and Innovation
Relationship with the People
Umo Eno is a grassroots mobiliser who is well known by his people. With his keen interest in community development and as a corporate citizen, he understands the essence of corporate social responsibility and has been involved in community development, including upgrading some secondary schools within his environs and providing platforms for the Students Industrial Work Experience Scheme (SIWES) among others. He has attracted visible development to his community including a cassava off-taking centre built by the Udom Emmanuel-led administration. He has awarded scholarships to many students across the different levels of formal education as well as several others in the area of skill and vocational studies.
Since 2004 he initiated and periodically embarked on a number of social welfare schemes, including medical interventions, building of houses for people within and outside his community and empowering youths through training and conferences, one of which is 'The Ignite.' Umo Eno has been involved in business training and providing small business startup packs to women in his community. Through the company he founded in 1997 he has employed between 1500 and 2500 Akwa Ibom indigenes and others, at various times.
Umo Eno is an ordained apostle in the body of Christ and is the Under- shepherd of the All Nations Christian Ministry International in Eket; a ministry called to build a community of Christian Believers that transcend race, tribe, colour, tradition and denominations into a kingdom focused church. He strives in his daily work to enthrone kingdom principles in doing business in the marketplace. He is a good social mixer who believes in hard work, integrity and strong character.
He is an author of several books including such inspiring titles as: Wealth Creation: God's Way, Breakforth, Dream Again, True Friendship, and Exercising Your Dominion Mandate. He is the Publisher/Editor-in-Chief of Hospitality Connect which covers the hospitality and tourism potentials of Akwa Ibom State as well as The Appetizer magazines. He is also a regular contributor to Christian journals and is a well sought-after public speaker.
Work Profile
Pastor Umo Eno is a visionary entrepreneur and a bivocational pastor. He has proven track records in achieving positive results through development of strategic business alliances, identifying new markets and developing business processes. He has a world of experience in operations, finance, strategic management, business expansion, product development, public relations and political involvement. With deep passion for excellence, his cardinal objective is to build synergy with individuals, corporate organizations, private and government institutions – in human capacity building, maximizing productivity and wealth creation, as well as ensuring strong future growth for national development and enhancement of humanity.
He spent his early years holding several positions in the private sector with stints in Bertola Machine Tools Ltd and the Union Bank Plc where he worked in the Business Advisory and Financial Planning Department. He later joined the Norman Investment Ltd where he distinguished himself as a man of excellence and towering integrity. He developed a financial roadmap and increased revenue generation in the said company, moving the growth rate from 5% to 15% in a year. He rose through the ranks from Finance and Investment Manager to General Manager and then to Group General Manager of the Holding Company (Norman Holdings Ltd).
From a humble beginning in 1997, he established Royalty Hotels & Recreations Ltd. With just five rooms the business gradually evolved into a conglomerate of hospitality and allied services that have become one of the leading brands in the hospitality industry both in Akwa Ibom State and Nigeria. The portfolio of the Group covers hotels, apartments, eatery and coffee shops (Big Daddy), industrial catering and AkwaFresh Premium Table Water. Collectively, the Royalty Group provides employment opportunities in most cases to more than 2,500 persons across the country – 80% of which are Akwa Ibom State indigenes.
In 2004, he was called into public service and appointed as Chairman, Hotels and Tourism Management Board by His Excellency, Arch. Obong Victor Attah, the then Governor of Akwa Ibom State. He held the position until the end of that administration in 2007. Key among his achievements is the first ever state-wide hotel inspection for categorization and classification. He also developed and printed the first Akwa Ibom Hotels Directory, which serves as a veritable source of information for the sector and guide to travellers and tourists visiting the state.
His second foray into public service was in September, 2019, when he was appointed as the Executive Director, Agricultural Investment in the Akwa Ibom State Investment Corporation (AKICORP) by His Excellency, Deacon Udom Emmanuel, the current Governor of the State.
Pastor Umo Eno brought his entrepreneurship mien to bear in the discharge of his duties as reflected in his achievements which include the revamping of Akwa Palm Limited, establishment of Ibom Fadama Microfinance Bank Ltd and the Construction of the Dakkada Warehouse/ Off-Taking & Training Centre in Nsit Ubium LGA.
His other notable achievement is the jump-starting of the Akwa Ibom State Youth Empowerment in Agribusiness Programme (AKSG YEAP PILOT 50); an empowerment programme conceived by His Excellency, the Governor to encourage youths to take up agribusiness as way of addressing youth unemployment.
He also facilitated the establishment of the OCP Africa Cassava End2End Smart Model and Construction of OCP Africa Farm and Fortune Hub/One Stop Shop/Training Hall at the following locations: Ikot Ekpene Ukim, Uruan L.G.A and Ikpe Ikot Nkon, Ini L.G.A, Akwa Ibom State.
In January, 2021, he was appointed into the Akwa Ibom State Executive Council and sworn in as Commissioner for Lands and Water Resources. Under his watch, the Ministry witnessed a transformation which culminated in remarkable achievements such as the provision of sites and services at the novel Dakkada Luxury Estate and the introduction of the Akwa Ibom State Geographic Information System (AKWAGIS).
Pastor Umo Eno also ensured that adherence to best practices in the Payment of Compensation and Preparation of Site Plans to allow for proper acquisition and allocation of land to would-be investors. Other initiatives include the Enumeration and Valuation Exercises for various big ticket investment projects, Inauguration of Committee on Land Verification and Recovery, Registration of Several Land Instruments to aid the realization of Revenue Targets, Allocation of Land for various development purposes Lands as well the prompt signing and release of Certificate of Occupancy (C- OF`-O) .
In the water sector, he initiated and completed Numerous live touching projects including a review of the Akwa Ibom State Water Sector Draft Bill.
What People know about him
Given his endowment, philosophy and disposition, friends and associates have come to the conclusion that Umo Eno is a man of dedicated service to God and humanity, blessed with foresight and destined for greatness, despite his humble beginnings. He is admired for his humility, courage, diligence, doggedness, value orientation and sense of organization.
Through his endeavors and accomplishments, he has been recognized in several quarters and given awards in a number of categories by different organizations. Among them are: