…says duly certified structures would attract compensations.
Akwa Ibom State Governor, Pastor Umo Eno, has warned individuals and groups obstructing development projects with hurriedly erected and illegal structures in the state, hoping to attract compensation from government, to desist from such act as his administration would only pay compensation on duly certified structures.
Governor Eno read the Riot Act, Sunday, at his hometown while addressing the congregation at the Apostolic Church, Ikot Ekpene Udo in Nsit Ubium Local Government Area where he, accompanied by his wife, Pastor (Mrs) Patience Eno, worshipped in an interdenominational thanksgiving service to commemorate his success in the last general elections.
Governor Eno who faulted the indiscriminate upsurge of unwarranted structures on roadsides of the community, described the act as anti- development borne out of greed to rob government of funds, and ordered owners of the unsolicited buildings to dismantle them with immediate effect.
"Please, to those of you who have heard me saying that we are going to construct roads, thank God our traditional Rulers and specifically the Village heads of these communities are here. I want to use this occasion to appeal to all those raising illegal structures by the road with the hope of getting compensation to please desist from such actions.
"This is a very serious warning, if we come with a project to your community and you obstruct it because of compensation, we will leave and take the project to another community.
"I will not struggle to help the people of this community. If we come to your local Government, Village or Community for development, you should receive and encourage us. We are prepared to develop the rural areas. We are prepared to work but let it be that when we come, we don't meet resistance in any form.
"I am a peace loving Governor. I will not have any strength to fight with the youths but that does not mean we will run whenever it is necessary to fight. I am not expected to fight and force development on you. A Local Government or Community that gives us the enabling environment is where we will develop. 
"It is not out of place to pay compensation for the old existing structures but for the hurriedly constructed buildings we will not pay", he warned.
Recalling how he was prevented from building a ware house in his community by youths during his days as a member of the state Executive Council in the immediate past administration, he emphasized that communities that are not ready to embrace development would forfeit such projects to others with need for such developments.
He therefore directed Local Government Council Chairmen across the state to make available hundred hectares of land in their domains for development projects, explaining that the move is to enable his administration take development to the grassroots as enunciated in the A.R.I.S.E. Agenda of his administration.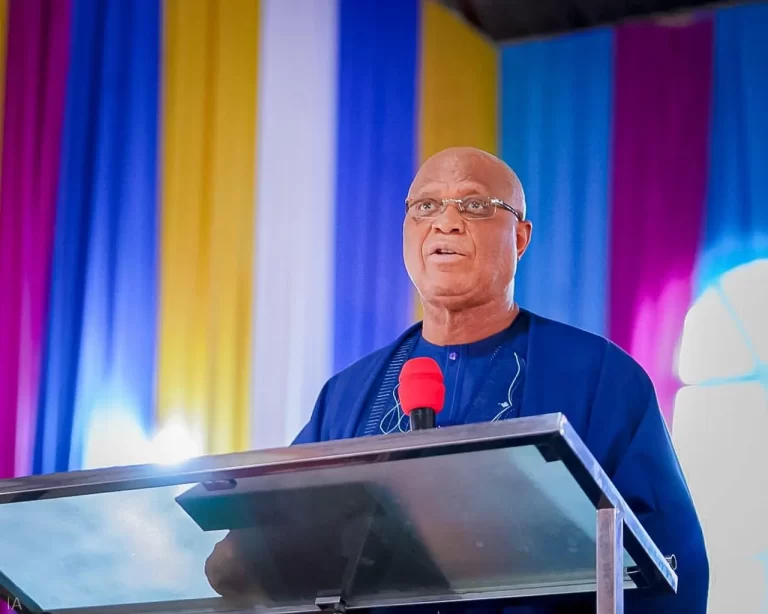 "I remember when I was in the Ministry of Lands And Water Resources, I asked each Local Government to give us land for Agriculture, it was only eleven Local Government that complied.
"Now, I am appealing again to all Local Government Chairmen, please give us land not less than one hundred hectares. Send us the land plans through the Secretary to the State Government and see if we will not come there and develop it for the benefit of the people of that local Government.
The state Chief Executive expressed appreciation to the people for the support given him that saw to his emergence as governor in the last general elections and particularly commended the church for coming together with other denominations to thank God for his success at the polls.
He premised the choice of The Apostolic Church, Ikot Ekpene Udo, for the thanksgiving service on the expansive auditorium which has accommodated the guest worshippers as well as the community being his ancestral birth place, saying that his parents are from the community and the church is his ancestral church.
He particularly appreciated the people of the community for accepting the throne of leadership through their massive support, noting that if he had faced rejection from the people his ambition would have suffered a set back.
"We needed to come and share fellowship with our brethren in my very home of birth, Ikot Ekpene Udo.
It is very significant for us because my both parents are from this village, though from different areas. The truth is that we are all one. I thought it wise to come home first to say thank you to the people of this land that did not reject this throne.
"You know, there are situations that your land can reject you. You don't know the speakings that has gone on this Land. Sometimes, the world may find delight in honouring you but your land would not agree. I tell you this as a pastor and not a politician. The world may choose to give you honour while the land of your birth can say no.
"So for this land to accept this honour that God has done us, we have come to say to the people of Ikot Ekpene Udo and pastors that prayed for us, thank you. We really appreciate your sacrifices that brought us to where we are today.
"This is only an opportunity. I may not be able to go round all churches one by one, but that does not mean I won't honour your invitation when necessary.
"We chose the Apostolic Church for this occasion for two reasons. One is because The Apostolic Church is my local Church and the second is because it has the largest auditorium among all the churches in Ikot Ekpene Udo. We will continue to maintain this good relationship that we have established in the course of this great journey. Thank you very much and God bless you", he stated.
He also paid glowing tributes to the late former Paramount Ruler, Edidem James Obot, who was murdered in cold blood, and thanked God for raising him to continue from where the royal father stopped.
He donated a purse in aid of the church building project and gave an undisclosed amount to the National Youth Service Corps, NYSC, members serving in the community who were visibly present at the service.
Lending her voice to Governor Eno , the state's First Lady, Pastor (Mrs.) Patience Eno, expressed gratitude to the women and her In-laws for the support given their son to emerge Governor of the state and prayed God's blessings on them .
Preaching on the theme "A man After God's Heart" the Area Superintendent of the Church, Apostle E.E. Inyang, who culled his message from Acts 13 verse 17- 22 and 1st Samuel 16:3,13 admonished that a man after God's heart is diligent in his ways, humble in the Lord, and depends fully on God. He said such a man who is led by the spirit of God, enjoys God's favor, protection, blessing, does not stop his journey halfway, and is compassionate and generous to the less privileged.
The Apostolic clergyman disclosed that Governor Umo Eno is imbued with these qualities and prayed God to guide him to realize his dreams for the benefit of the state.
Highpoints of the service was conferment of 'The Joshua Award' on the Governor to enable him lead the state, and 'The Phoebe Award' on the state first lady, Pastor Patience Eno, to strengthen her in her supportive role to the first family.
With the Governor at the service was a delegation comprising the Deputy Governor, Dr Akon Eyakenyi ; Secretary to the State Government, Prince Enobong Uwah and wife; Speaker of House Of Assembly, Hon Udeme Otong and wife, Deputy Speaker Rt. Hon. Kufreabasi Edidem; State Chief Judge, Justice Ekaette Obot, House of Representatives Member for Etinan Federal Constituency, Obong Paul Ekpo and his counterpart for Eket, Esit Eket, Ibeno Federal Constituency, Hon Okpolupm Etteh, Immediate past Chairman of CAN Rev. Ndueso Ekwere; House of Assembly member for Nsit Ubium State Constituency, Hon Otobong Bob; Elder statesman, Elder Ben Udobia.
Others were Head of the Civil Service, Elder Effiong Essien and wife, Immediate past SSG, Dr Emmanuel Ekuwem, Chairman of Nsit Ubium, Hon Iniobong Orok; CEO of HENSEK Integrated Services, Engr. Uwem Okoko; State PDP Chairman Hon. Aniekan Akpan, Wife of Oku Ibom Ibibio, Akwaobongawan Philomena Solomon Etuk, among others.
Media Unit
Government House, Uyo
9/7/23