Akwa Ibom State Governor, Pastor Umo Eno, has canvassed the support of Nigerian Immigration Service, NIS, on boarder surveillance for the attainment of the goals of the A.R.I.S E. Agenda of his administration, assuring on logistics for job delivery.
Governor Eno solicited the support when he received in audience the Acting Comptroller General of Nigerian Immigration Service, Caroline Adepoju, who led other high ranking officers of the service on a courtesy visit to Government House, Uyo.
He assured the NIS boss who is on duty tour of Immigration Service formations across the state on the premium his administration's A.R.I.S.E. Agenda places on security, saying that this commitment is demonstrated by his creation of a designated Ministry to oversee internal security and waterways as well as the appointment of a retired Army General to supervise the new government department.
"We recognize the importance of security to the growth of our economy. So we are giving it the pride of place and the priority it deserves", he said.
The governor acknowledged the cooperation of Nigerian Immigration Service with the State administration and sued for more of such collaborations, thanking the NIS boss for her choice of the state to commence the duty tour on assumption of office.
The State Chief Executive expressed optimism that the new Ministry of Internal Security would fight criminality to it bearest minimum given the pedigree of the Commissioner, General Koko Essien rtd., whom he said is vested in tackling crime and insurgency.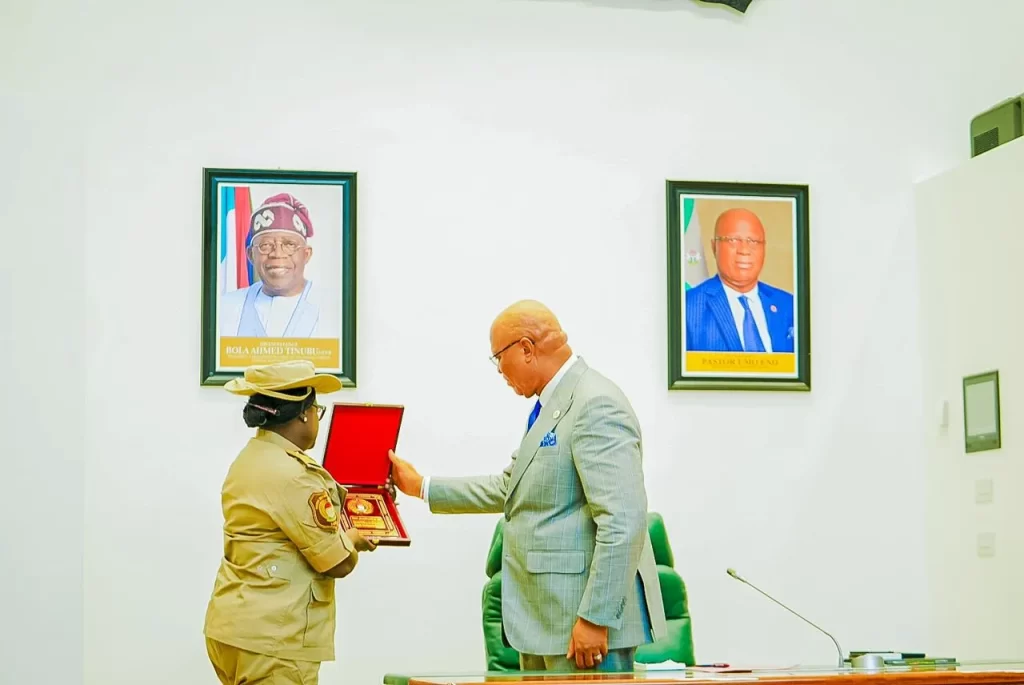 He spoke of the state Immigration boss as a committed security personnel who has shown great dexterity in service delivery even with minimal resources, assuring that his administration will explore ways of supporting the Service for efficiency in service delivery.
"I don't see any reason I shouldn't support you to succeed more because with the little resources at your disposal we can see that you are doing your very best. I may not promise anything but I can assure you that we will support the service."
Earlier, the Immigration Comptroller General, Caroline Adepoju, congratulated Pastor Umo Eno on his emergence and subsequent swearing in as Governor of the State and lauded the existing cordial relationship between the State Government and the Service.
She said her visit was in line with the Service's vision of ensuring effectiveness and efficiency in the security of Nigeria's coastal boarders and therefore solicited more logistics support of the State government to achieve the enormous task.